This year has turned out to be more hectic than most for many different reasons, most of which have to do with the world outside here. So, while some of you were like: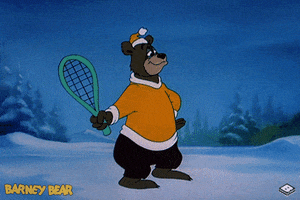 yours truly was more like:
Nevertheless I did do 412 squats which made me think about the burn. We don't believe in calorie-counting in The Hive but for our purposes here it would be a fun way to work out just how hard you worked while (some of you) iced me.
The amount of calories a single squat burns depends, of course, on a number of factors some of which I will list here as they are a good reminder about the complexity of physical activity and results:
- Age
- Sex
- Weight
- Existing muscle mass
- Rate of execution of squats
- Time of the day
- Time of the year
- Diet
- Fitness level
On average however a single squat burns 0.32 calories. So if, you do 412 (like I had to do) you end up using 412 X 0.32 = 132 calories (rounded up).
See if you can work out your count. Add up all the squats you did, multiply by 0.32 and it will give you an idea (bear in mind it is an approximation for all the reasons mentioned).
Regardless of the number of snowballs we had to eat, this year's snowfight cheered us up in a year when we are all actively looking for something to feel cheery about. Thanks goes, of course, to you all and I will finish with a warning that come next Christmas I will be devoting some serious time to making sure you all get your just share of ice and snow in a totally round form.